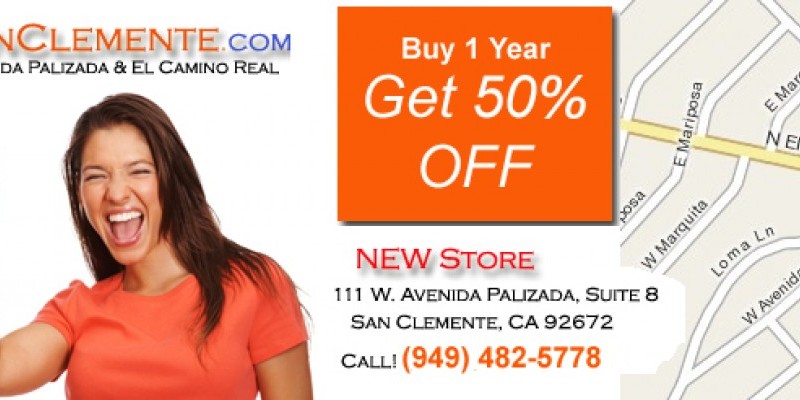 Mailboxes San Clemente, California
Mailboxes San Clemente, CA
Mailboxes for San Clemente, Camp Pendleton, Dana Point, Laguna Niguel, and Beyond

Get a Harder-Working Mailbox ONLY
$5 PER MONTH w/ 1 year purchase (50% Off Retail)
At Mailboxes San Clemente you can get a mailbox with a real street address and secure conveniant hours for access* to mail and package deliveries. Additional services include mail forwarding, email / text notification of mail. You'll also find many of the postal products and services you need.
Welcome to the friendly mailbox store located here in beautiful San Clemente.
WHAT CAN YOU GET FOR $5 THESE DAYS,?
CAN YOU BELIEVE A MAIL BOX FOR A MONTH! (w/1 Year Rental)
We are conveniently located in downtown san clemente in Old Town San Clemente where there is ample parking and cool little shops and eating places so you can hang out and go through you mail if you like. I appreciate your business and will do everything I can to make your mailbox experience phenomenal. I can even email you when your mail arrives.
JUST SAY NO!
To Strange People Showing Up at Your Home
Other People Handling Your Mail Because You Have A Shared Address
and No Confidentiality!
Just say NO! and come to Mailboxes San Clemente for a Friendly Private Mail Box!
WHY DO YOU NEED A MAILBOX?
Mailboxes offer several advantages over residential mail boxes. Mailboxes offer privacy and permanence for mail retrieval. If individuals, families or small businesses move, the mailing address does not have to change.
Private correspondence is protected in a post office box, where only those with a key can access the mail. Mail is usually delivered more quickly to a post office box than a residential address.
Advantages Include:
- Actual Street Address, Not a P.O. Box Number
- Package Acceptance from Other Carriers - So you'll never miss a delivery.
- Virtual Tenancy/Brick and Mortar Presence
- Privacy
- Anonymity
- Permanence
- Continuity
- Credibility - Having a different address than your home
- Surveillance Cameras
- Mail Security
- Mail forwarding
- Google and Yahoo Internet compliant listings for businesses
- Relocaiton
- Moving To Our Area
- Shared Living Situations
- Permanent Address - Move Frequently - Problem Solved
- Coveniant Hours for Access- Pick up your mail when it's convenient for you.
- Use of Steet Address Instead of P.O.Box
- Mail Forwarding
- Email Notification Options
- Mail Theft Prevention
- Identity Theft Prevention
- You Don't Have To Be A US Citizen Or California Resident to Rent
- Important business service for landlords receiving rents
A private mailbox is similar to a post office box with one extremely important distinguishing highlight. You can receive letters and packages from other carriers such as UPS, FedEx, and DHL in addition to mail from the USPS. This is an extremely important feature, as some places do not even ship to PO boxes at all.
With a private mailbox, you can also receive larger packages that the post office will not accept. Even if you are not available to receive the item during normal work hours, you no longer have to worry about missing shipments that require signatures or having important packages left at the front door.
If you are running a small business, having a street address as opposed to just a box number can be perceived as being much more credible. In addition, it often has the appearance of an office or business complex complete with suite number.
If the mailbox is blocked due to construction or other things like cars or trash receptacles, the mail will not be delivered. Carriers also will not deliver if there is threat of injury by a dog.
GET YOUR NEW MAILBOX TODAY!
To rent a Mailbox one must have two forms of acceptable identification.
Please call us at (949) 482-5778 for more on how to rent your mailbox in San Clemente today!
TESTIMONIALS
What Our Clients Are Saying About Us!
EXCELLENT AND PROFESSIONAL!
They are very nice and helpful. I rent a mailbox from him and he emails me when I have mail and is simply a pleasure to work with. His store is clean, safe and professional. I got the free business website with my mail box from him and I am floored at how well it works and even brings me more business than the cost of my mail box. It is the best thing I did for my business and its always fun getting the mail. Thank You Patrick!
Eric, San Clemente CA
A GREAT DEAL!
I am in the core and when I am deployed it is great to have a place I can count on that is lowest cost I have seen and is in San Clemente.
Anthony, USMC