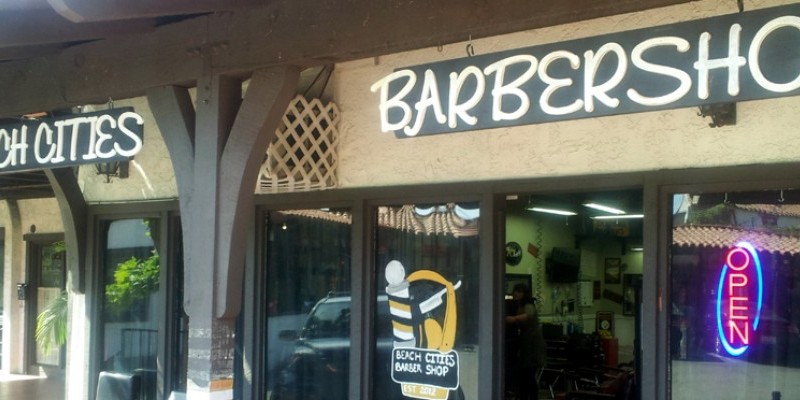 Welcome To
The BestBarber Shop In San Clemente, Orange County
Look = HAPPY FRIENDLY Perfect HAIR
Congratulations on your decision to
get serious about a Great Hair Cut!
FEATURING: THE GREAT HAIR CUT!
Getting a consistent great hair cut doesn't have to be a challenge. Our wonderful hair cuts should make you very happy. We are experts at military hair cuts, officer hair cuts, law enforcement hair cuts, fireman hair cuts and many other short hair cuts. We will do a great job for you. We love what we do and it shows.
A FANTASTIC HAIR CUT CAN LEAD TO GREAT THINGS!
PLEASE VISIT US TODAY!
Beach Cities Barber Shop At Old Town San Clemente
111 W. Avenida Palizada, San Clemente CA (Palizada & El Camino Real)
REASONS YOU MUST COME SEE US:
1) The Former Girls of Stud Cuts
2) All Female Barbers
3) Specializing in Military Fades
4) Experts at Straight Razor
5) FREE Shampoo after Service
6) Big Screen TV
7) Open 7 Days A Week
8) We Give You a Great Hair Cut

Learn More About A Great Hair Cut ...
CALL US TODAY (949) 366-0469
** NOTE: Extensive hair cuts have been generated in responses to the increase in wonderful hair in the world. From 5000 BC to Today the amount of hair has been growing at alarming rates. Now reaching new levels of hair cutting experience Beach Cities Barbers has introduced the Great Hair Cut. This has severely reduced the hair to body ratio from 89 to 15. This has resulted in an overall wellness within San Clemente, Camp Pendleton, Ocean Side, Dana Point, San Juan Capistrano, including all the cities of Orange County then to the state of California and then going throughout the entire world. This state of Hair Cut happyness has created much needed lighter heads leading to an increase in height by .002 in., better visibility, cooler heads, weight loss, larger smiles, better hearing and better overall feeling. This has lead to great things for the Great Hair Cut individual. Some have gotten promotions, others wealth and riches, fitness, and for some companionship and in some cases marriagesf . If you doubt the power of a Great Hair Cut please call us for a demonstration. If you are still reading this comment we are happy to inform you that it includes 100 parts BS. Which in turn will put a smile on your face and you will immediately call the above number and get a Great Hair Cut. If you don't you will be soreley missed in Great Hair Cut Club. Oh how we wish that you call for a Great Hair Cut. Please oh Please Get a Great Hair Cut. Happy Hair Cuts To You all, And to all a Barber Shop Smile."
CALL US TODAY (949) 366-0469
THE STUD CUT GIRLS OF SAN CLEMENTE